Although Google Play Store is still one of the safest places to install Android apps, from time to time there are lists of malicious apps that manage to escape Google detection by malware.
And recently, a bunch of new malicious apps were discovered on the platform, which have a total download of 10 million times. These apps pretend to be keyboards, photo editors, and other auxiliary apps, with the aim of getting users to install them on their systems.
After achieving this goal, they start subscribing the phone number to premium plans paid via SMS and collecting personal information, as well as displaying advertisements in an offensive manner.
It was discovered by a security company Dr. the webWhich revealed that it has discovered a bunch of new apps to this effect that have been on the Play Store practically since May 2022.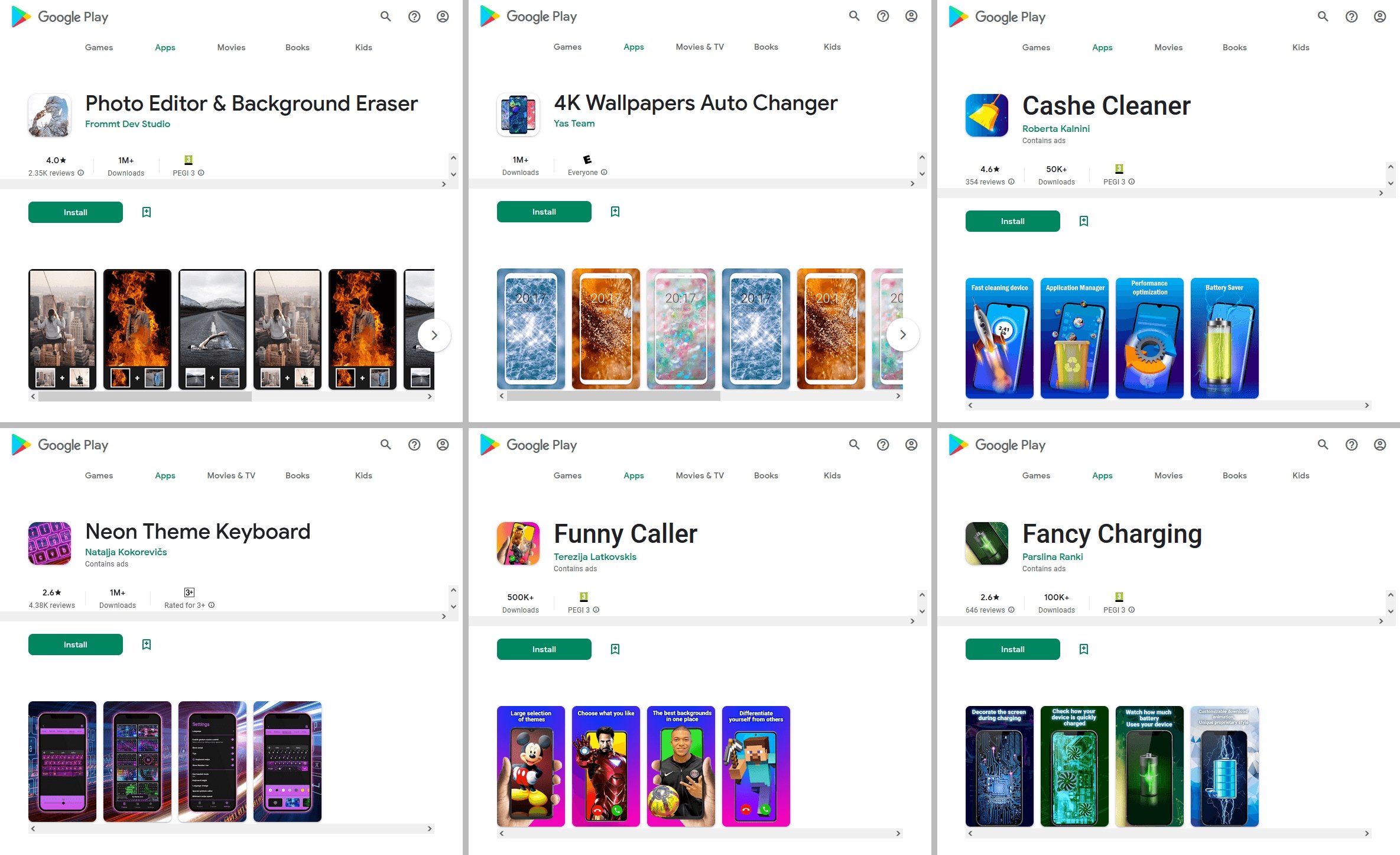 Some apps have started asking for permissions that are completely intrusive on the system, such as the ability to bypass other apps or activate accessibility services. Once that was done, they proceeded to send out offensive ads and collect data.
Moreover, once installed, the apps hide from the system by changing their icon to something generic, and with names like "SIM Toolkit". This method is used to hide activities and prevent users from uninstalling them.
Some apps contained user reviews that indicated malicious activities, with reports of those having to perform a full system reset to regain access.
The full list of malicious apps can be found below. If you have installed any of these applications in the past, it is recommended that you check your system for any possible traces of it.
Photo Editor: Beauty Filter (gb.artfilter.tenvarnist)
Photo Editor: Retouch & Cutout (de.nineergysh.quickarttwo)
Photo Editor: Art Filters (gb.painnt.moonlightingnine)
Photo Editor – Design Designer (gb.twentynine.redaktoridea)
Photo Editor & Background Eraser (de.photoground.twentysixshot)
Photo Editor and Exif (de.xnano.photoexifeditornine)
Photo Editor – Filter Effects (de.hitopgop.sixtyeightgx)
Photo filters and effects (de.sixtyonecollice.cameraroll)
Photo Editor: Blur Image (de.instgang.fiftyggfife)
Photo Editor: Cut and Paste (de.fiftyninecamera.rollredactor)
Emoji keyboard: stickers and GIF (gb.crazykey.sevenboard)
Neon Keyboard Theme (com.neonthemekeyboard.app)
Neon Theme – Android Keyboard (com.androidneonkeyboard.app)
Cashe Cleaner (com.cachecleanereasytool.app)
Deluxe Shipping (com.fancyanimatedbattery.app)
FastCleaner: Cashe Cleaner (com.fastcleanercashecleaner.app)
Call Skins – Caller Themes (com.rockskinthemes.app)
Funny Caller (com.funnycallercustomtheme.app)
CallMe Phone Themes (com.callercallwallpaper.app)
InCall: Contact background (com.mycallcustomcallscrean.app)
MyCall – Call Personalization (com.mycallcallpersonalization.app)
Caller theme (com.caller.theme.slow)
Caller subject (com.callertheme.firstref)
Funny Wallpapers – Live Screen (com.funnywallpapaerslive.app)
4k wallpapers auto changer (de.andromo.ssfiftylivesixcc)
NewScrean: 4D Wallpapers (com.newscrean4dwallpapers.app)
Stock wallpapers and backgrounds (de.stockeighty.onewallpapers)
Notes – Reminders & Lists (com.notesreminderslists.app)
As always, caution is still recommended when installing new apps, even if they come from sources like the Play Store. You should always analyze its origin and possible revisions, as well as pay attention to the required permissions.
"Friendly zombie fanatic. Analyst. Coffee buff. Professional music specialist. Communicator."