April 30, 2022 – 5:56 pm

#Firefighters and Society: The story of those who overcame depression through dance #Projeto Saúde
Ascom CBMC E | The Health, Fire and Community Project: The story of those who conquered depression by dancing
Referring to International Dance Day, on Friday (29), the Minister of Security talks about the story of people who have improved their lives thanks to the CBMCE project
Just do a quick search on the internet and you will see the many physical and mental benefits that dancing can provide. But what about when you get the chance to hear stories of people who have improved their lives after dedicating part of their time to dancing? These are the men and women who are part of the Ceará State Military Fire Brigade Health, Fire and Community Project (CBMCE), which became state policy in 2019, following a law enacted by then-Governor Camilo Santana.
International Dance Day
The twenty-ninth of April is International Dance Day. Given this history, the Secretary of Public Security and Social Defense (SSPDS) has brought in a character with a peculiar history of her relationship to the project and to the people who incorporated it. Housewife, Osinir Raimunda de Oliveira, part of Health, Fire and Society in the Piedade core, in the neighborhood of Joaquim Tavora, in Fortaleza, dedicates an hour every Tuesday and Thursday to one thing: dancing.
And to find it, just pass through the covered courtyard gates of the Piedade Church, where you will come across many smiles and also the red and white colors that prevail in the blouses of those who participate in the project.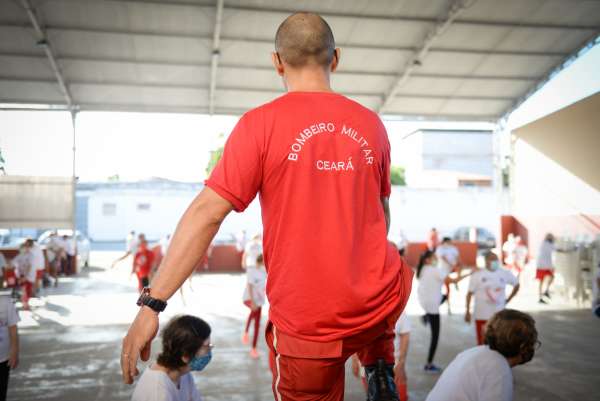 Osinir, who is from Pernambuco, comments that she has been part of the project for four years, when the center's civic coordinator, Maria Selma, invited her to participate in physical activity. She reveals that because she only lived with her husband here in Fortaleza, she felt very lonely and was in a moment of depression. However, the project highlighted the good feelings in his life.
"The project improved my life and health when I was sick at home with depression. Then Salma, who is also part of the group, invited me to take part in some classes. I came, from that moment on, I felt so much better, because I didn't talk to anyone, I just lived in Locked house. But after I came here, my life completely changed. I became cheerful and became an open person. Then came the walking trails, which made me better even more, because we always walk and talk," he reveals.
She says that because of the moment she lived in, she was shy at first, but that the union and reception of everyone was essential for her to overcome all adversity. When I was sick, I sometimes felt bad. At first, we feel, right? Kind of embarrassing because I don't know anyone. But everyone was family and was so welcoming. They were all there always. These ladies are here. Everyone is there next to me. So it felt like they were my family and that's the most important thing to me. Then the depression was gone. I was encouraged to hug, play, jump, and dance, something I didn't even know about," he highlights.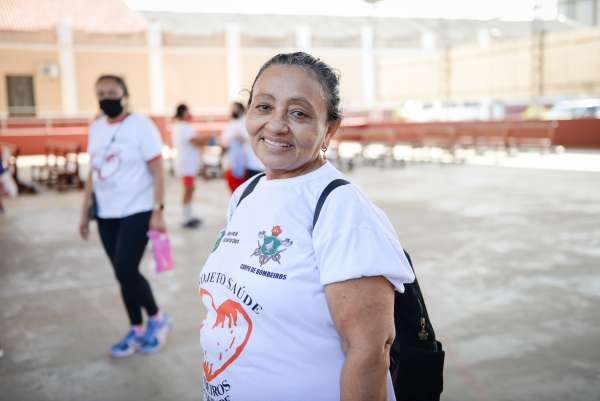 Ausenir took the opportunity to leave a tip for everyone who is not yet involved in the project. "Thank God I feel good and I advise anyone to do like I do. This business of just staying inside has no future. The future is here," he advises.
Proud to be a part
The coordinator of the Núcleo Piedade, in the Joaquim Távora neighborhood, is the Fire Department's 3rd Sergeant, Mariana Ramalho. Military firefighters have been coordinating the project in the area for six years. The core, however, will be completed, on August 3, 17 years.
"Dance is one of the things we deal with. A lot of them like that physical expression, to let go of the music. The socialization is very noticeable. There is also the issue of looking for health and that is a motivating factor for all of them. I feel very happy to be a part of the project because we are making our contribution. So it is A two-way street. They gain luxury and we are happy to provide that," he explained.
The sergeant also commented that the benefits come not only to the elderly women and seniors who participate there, but also to the team she coordinates. "I felt so welcome here. On the days when we're not 100%, our spirits improve because it conveys so much joy. It's so wonderful and so satisfying. I get goosebumps while talking because it's great to know that we are somehow contributing to the improvement of their lives."

The project
Said, Firefighters and Society was born in 2003, as a voluntary initiative of the Ceará Military Fire Brigade (CBMCE), with the aim of carrying out activities aimed at the well-being, especially of the elderly, through social and practical integration. of physical activities. It also aims to implement social and educational campaigns and civic events, in addition to providing information on the prevention of fires and home accidents. In 2019, following a law enacted by then-Governor Camilo Santana, the project became state policy. During the Covid-19 pandemic, the project was broadcast live on the Youtube channel of the Ceará State Military Fire Brigade and also live on Ceará TV.
At first it operated only in Fortaleza, but it has expanded over time and today it has been developed in all regions of the state, benefiting more than 26 thousand people, with 349 classes registered in the CBMCE Training and Human Development Center
Save the lives and wealth of others!
"Writer. Analyst. Avid travel maven. Devoted twitter guru. Unapologetic pop culture expert. General zombie enthusiast."