This Thursday, the Lyon coach expressed her "pride" in her Portuguese roots, after a 5-0 victory over Benfica, in Seyxal, in the fifth round of Group D of the UEFA Women's Champions League.
Sónia Bompastor made sure to lay off the services of a translator as soon as it was time to answer Portuguese journalists' questions, offering to "answer in Portuguese" fluently on the assumption that she lived a "very special game".
"For me, it was a pleasure to come here to play for Benfica. My mother's whole family lives in Portugal and two of my uncles were here watching the match. Although I was born in France, I am very proud of my origins. Very special to me", that's what The Portuguese coach said.
The Lyon coach beat Benfica in Seixal and eventually took a picture with his Portuguese uncles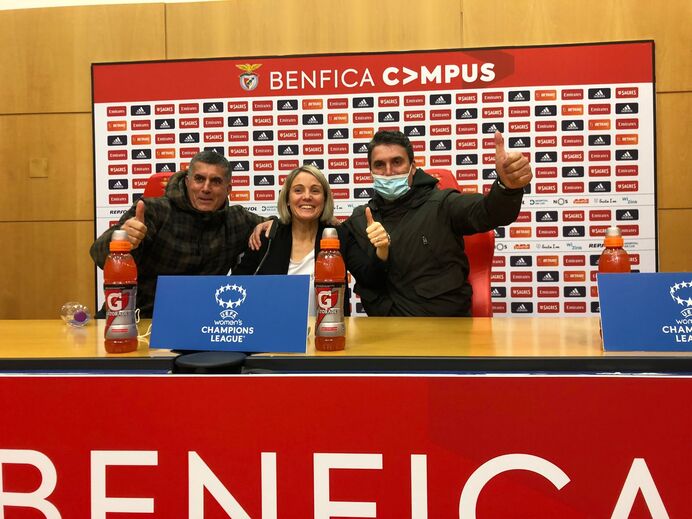 He added, without stopping, that "the family is also Benfica" and therefore was "very happy with the win, but also for Benfica and Portuguese women's football".
"They are taking steps forward and on the right track. It is very positive for European football and above all Portuguese football," he commented during the press conference that followed the meeting in Sixal.
Watching the aforementioned family members in the hall, Bombastor praised the attitude of the team coached by Philippa Patau and emphasized that "the goal was scored early, the players' physical strength and dead balls, which made the difference", but stressed that the "incarnates" did "very interesting things" .
"What I loved the most about the Benfica team was that they were not afraid to play against Lyon and they kept their philosophy of possession. They have players who do that and it was good for them," he said.
"Food fanatic. Organizer. Hipster-friendly tv specialist. Avid reader. Devoted web ninja."