Julia Billard She left followers divided by sharing photos of the 'difference' between a woman and a man when they had a fever, although the actress says it was all just a 'joke'.
"Being a woman means having a fever, but making breakfast, getting clothes, taking the puppies to school, tidying up the house, taking care of the 25 awesome seats, tantrums, bathing, eating dinner, and taking care of the husband", reads in the first picture. "To be a man with a fever of 37.5 and to be able to … to be able to … to be able to do … nothing", read below.
In the description of the post the actress wrote the following: "Tell them it's not true? Woe to those who say it isn't! Sore throats and they can't get out of bed.", He said.
While most followers agree with Julia, others have accused her of it "circular" it is in "Romanticize". "I see everyone 'laughing', but frankly that's not funny at all. It's up to our generation, millennials, not to normalize these attitudes to break the cycle! If a woman has a fever, she should take the partner instead of controlling and doing everything so the other person can rest and recover!" (Then it continues to split 50/50.) Three times more than the other person! More responsibility in 'influencing' in the following posts, please. If we're not part of the solution, we're part of the problem."One Internet user wrote. To this comment, Julia Billard just replied: 'This was a joke… it wasn't romantic'.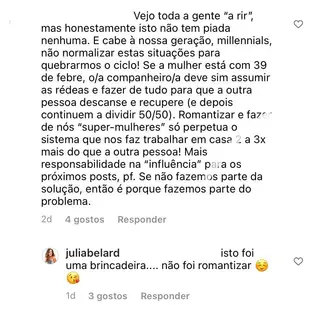 "Calm, not much. Every situation is different and these 'all or nothing' discourses are not constructive and take extreme polarizations and positions. I can't say otherwise or whatever generalizations about women I know all", another user said. The actress was also careful not to leave him unanswered and repeated: "It was just a joke!".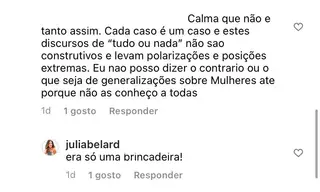 "Proud coffee junkie. Gamer. Hardcore introvert. Social media trailblazer."